Operation Smile gives Class of 2020 dolphin fresh, new look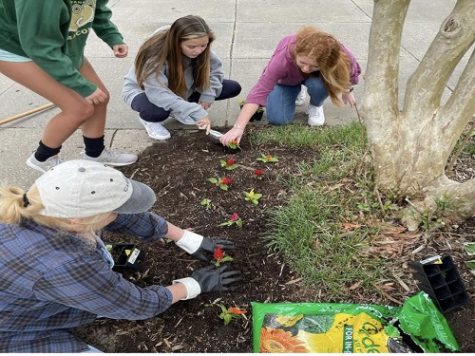 Club members from the school's  non-profit Operation Smile organization have gotten their hands dirty cleaning up the honorary graduate flower bed that houses the dolphin, "gifted" last year by the Class of 2020.
The flower bed  where the dolphin resides has been untouched for about a year now and hasn't been freshly spruced since its new arrival during the pandemic
Each year the graduating class leaves behind something for future generations to remember. Last year, they left a dolphin; statue signifying, strength, courage, perseverance, and resiliency.
During the end of their senior year, the Class of 2020, who had to take the brunt of this new, unprecedented virus still managed to leave their legacy. The Operation Smile club recognized the hard work and drive it took for these students to graduate in such unexpected circumstances and decided to commemorate their four years given to the school.
Throughout the course of the year, the statue has stood as a beacon of hope outside of the school. Whether it gave hope to the teachers who had to sit in empty classrooms for the entirety of the first semester or for the students who were told they could safely attend school, only having it taken away the next week. The statue has been a beautiful symbol from the start and an inspiration to many students to push to the finish and make it to where we are now.
So, Operation Smile club members took it upon themselves last week to revamp the flower bed area in hopes of keeping spirits high. After careful design, thought, and fundraising, the new aquatic statue was finally ready to take its rightful place in it's newly refurbished flower bed.
"The dolphin statue that we fundraised for and decorated represents the students of Cox high school and how we had to stick together as a family and keep moving forward when COVID hit in March," Operation Smile president Natalie Jones said.
Even though planting some new tulips and laying down mulch doesn't change the outcome of this school year, it seems to have given students a feeling of excitement and hope for what this next year holds for them and their future.
Now, let us all hope that by the beginning of the new school year in the fall, the school will be bustling with kids, some old and new, all of whom see the statue and flower bed and become inspired for the remainder of their time as Falcons.
Leave a Comment
About the Contributor
Caitlin Sullivan, Editor-In-Chief
Senior Journalism III student

I'm heading on the Pre-Law track in my college future.