Black History month assembly, freedom for all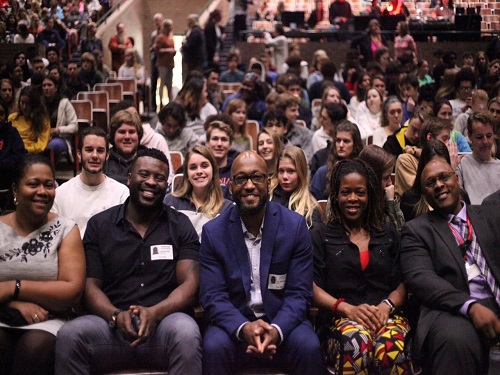 The Black History month assembly was once again a "go" thanks to the school's Step Team and their sponsor Amanda Gillespie.  The last assembly celebrating black culture was held over five years ago and it was time to recognize the diversity in our population.
After Gillespie agreed to lead the project, Art teacher Jessica Van Veenhuyzen was the first teacher to jump on board in celebration of the month, asking her students to work on portraits of influential African Americans from Virginia. Van Veenhuyzen's students created a giant display in the auditorium foyer and also left some on display outside of her art room.
"This morning we were treated to a Black History Month assembly lead by Ms. Gillespie and many talented students.  They were supported by the outstanding theater students in Ms. Machay's classes, Mr. Lane's jazz band, the journalism students of Ms. Tonelson, and the choir of Ms. Stahl, among many others," principal Dr. Kelly said. "There was so much talent displayed today, it made me even more proud to be a Falcon."
Among the song, jazz and theatrical renditions of those who impacted African American history, student journalists compiled a panel of five influential African Americans in our society.  The visitors were asked to sit on stage  and then questioned about the purpose of community and how they give back and teach students in our own community.  The panel of five included: Dr. Kellie Mason who was an assistant principal and principal in Virginia Beach (VB) and is now the principal at Warwick High School in Newport News, former UFC fighter Antwain Britt who now owns his own gym and trains several sports team in VB, Corey Williams, a long-time wrestling coach who builds community within the student wrestling community, Rita Cohen, who is from Africa, speaks nine languages and speaks frequently across the community about diversity and the necessity of bringing people of all races together, and Robert Jamison, former Head of Guidance Services at the school and now Head of Guidance Services for all of Virginia Beach City Public Schools.
The highlight of the assembly had to be the ending though, with the Step Team's heartfelt and meaningful performance that celebrated influential black lives throughout the history of our country.
"Thank you all for the support, it has been a beautiful celebration of Black History across the school because of all of our efforts. I love seeing all the work students have done throughout the building and if you haven't yet, I encourage you all to take a few minutes to tour the school, as there are amazing works down every hall. Special thanks to Michelle Machay and Erin Tonelson for their extreme flexibility and dedication to making today's assembly a success," Gillespie said. "I too am proud to be a Falcon."
About the Contributor
Spencer Davidson, Multimedia/Managing Editor
Senior Journalism III student

Spencer is a photographer, honing his craft at concerts and around Virginia Beach.

He is most proud of the time he...