Student-athletes join others across the country, National Signing day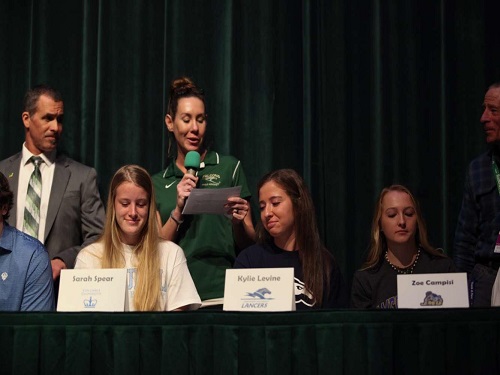 National Signing Day is an annual event held on February 5 throughout the country, as student-athletes prepare to turn the page, graduate from high school and move on to the next chapter of their lives.
On this special day, 13 of the school's seniors sat on stage in the auditorium in front of family, teachers, and peers to ultimately commit to the [respective] university or college of their choice by signing a binding 'letter of intent' to play a collegiate sport for the next four years.
Thus, as the student athletes sit stoically, wearing clothing that represents their choice school and waiting for kind words from their coaches, they must silently reminisce over the last four years and how their passion to succeed in their sport has led to this moment in time.
Congratulations and good luck to the following student-athletes:
Payton Brunick- University of Tampa (Volleyball)
Maddie Brunick- University of Tampa (Volleyball)
Kaitlyn Piston- University of Mary Washington (Volleyball)
Bailey Deaver- Longwood University (Cross Country)
Sarah Spear- Columbia University (Field Hockey)
Kylie Levine- Longwood University (Field Hockey)
Zoe Campisi- James Madison University (Field Hockey)
Nate Unger- Washington & Lee University (Football)
Josh Grubz- East Carolina University (Baseball)
Ryan Long- University of Lynchburg (Baseball)
Emma Landis- Longwood University (Golf)
McKaylee Shaffer- Mary Baldwin University (Softball)
Weston Green- Limestone College (Lacrosse)
About the Contributors
Kenzie White, Student Life Editor
Junior Journalism II student
Lauren Barrineau, Editor-In-Chief
Senior Journalism III student