NAHS visits Virginia MOCA, meets local artist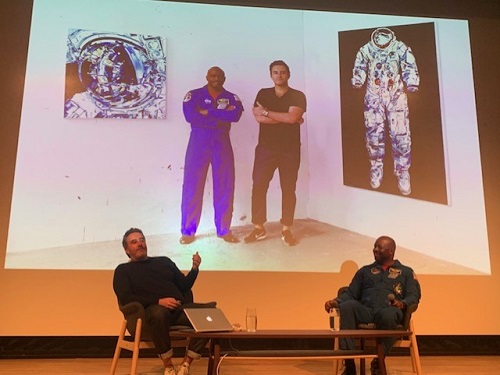 The National Art Honor Society (NAHS) once again headed to the Virginia Museum of Contemporary Art (MOCA) at the Oceanfront for another hands-on learning experience and the opportunity to meet local artists. Art teacher and NAHS sponsor Jessica VanVeenhuyzen arranged the trip and was responsible for making it happen. In fact, this is the sixth trip students have taken to the museum due to the time Mrs. V's invests in her art students.
This time around, students had the chance to meet local artist Michael Kagan, as well as astronaut Leland Melvin while viewing the new exhibit, Michael Kagan: I Was There When It Happened.
According to virginiamoca.org, Kagan uses older NASA photographs as source material while painting with thick brushstrokes that seem chaotic, but from a distance create are seen as cohesive and realistic images. Furthermore, the exhibition is essentially a platform for STEAM-centric programming for visitors of all ages and interests to include public artist talks, school-based collaborations, STEAM workshops in the studio school and themed panel discussions. 
While interacting with Kagan and Melvin, the students were able to learn more about the connection between art and space. And at the end, they were able to take pictures with the two and received a signed poster to hang in their classroom.
"It was very interesting to speak with both Kagan and Melvin and we were able to see how art and science came together," VanVeenhuyzen said.

About the Contributor
Audra Chaffinch, Editor-in-Chief
Senior Journalism III student