Local bagel shop brings the New York style experience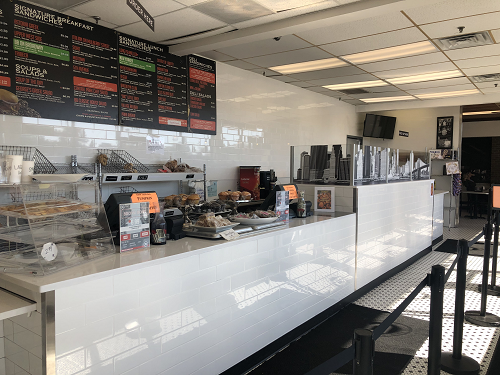 Bagels have been a staple of the northern breakfast scene for a long time and places such as 'Bagel Baker' have brought this tradition to our area. Despite national food chains such as Panera Bread or Bruegger's Bagels, many breakfast fanatics can find their favorites at this locally loved restaurant.
Located in Virginia Beach on Great Neck Rd., right down the street from the school, bakers at the local eatery come in every morning at 4 a.m. to kettle-boil and stone-bake bagels for 'an authentic New York experience.'  And, unlike other breakfast eateries, 'Bagel Baker' makes their bagels with a preservative-free dough and is made fresh everyday.
Locally owned and operated by George Stepanovich, 'Bagel Baker' was recently voted the Best Bagel shop in Virginia Beach by the Virginian Pilot newspaper. After seven years of success, Stepanovich makes sure that the bagel shop constantly provides customers with a variety of the bagel flavors, as well as updating his menu regularly to match the seasons. So, as fall peaks and the holidays arrive, items such as pumpkin spice iced coffee are offered. 
"One of the best perks of owning the Bagel Baker is getting to know all the students who come into the shop so regularly. They truly become part of our Bagel Baker family. I feel blessed that I have the opportunity to watch you all grow into young adults and chase your dreams," owner George Stepanovich said.
Fan Favorites
With so many options to choose from, customers are forced to make a tough choice when it comes to their order. Among those are fan favorite signature breakfast and lunch sandwiches available at a low price.
"Long Island Lox" ($11.49): Coming straight from Long Island, New York; this sandwich holds a special place in the hearts of many native New Yorkers. Served on an open faced bagel of your choice, this customer classic includes plain cream cheese, topped with lox, tomato, red onions, and capers. 
"BB on Broadway" ($5.69): Another fan favorite signature sandwich is served on a bagel of your choice and includes Italian sausage, egg, hash browns, and American cheese.
"Brooklyn Club" ($6.79): This signature lunch sandwich features turkey, ham, bacon, American cheese, lettuce, tomato, red onion, and ranch dressing on the bagel of your choice or New York Deli Rye bread.
Student Approved 
Whenever local high school students are looking for breakfast on-the-go or an after school snack, they find themselves walking into Bagel Baker. Obsessed with their after school orders and caffeine boosts, this fan favorite is perfectly housed exactly three minutes from the Falcon Nest, as well as the home of the First Colonial Patriots. To get a true sense of what customers love to get at Bagel Baker, we reached out to a few bagel fanatics to give us their opinion. 
"My go-to order is a bacon, egg, and cheese on a toasted plain bagel with an iced coffee. Bagel Baker has such good food and the coffee is the best," senior Chrissy Baker said.
While many bakery lovers stick to the basics, some enjoy a more daring bagel order. 
"My favorite thing to get at Bagel Baker is definitely The New Yorker on a plain bagel. It comes with pastrami, corned beef, swiss, red onion, and spicy deli mustard. It's so good, everyone has to try it," senior Kaleigh Miller said.
Leave a Comment
About the Contributor
Ashley McGrath, Managing Editor
Senior Journalism III Student