Journalism's Falcon Press wins consecutive national and state gold medal awards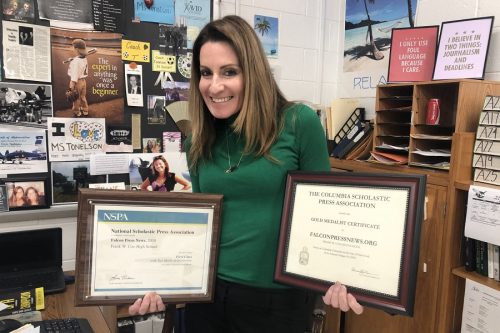 Journalism teacher and Falcon Press Online student news Adviser Erin Tonelson opened her email earlier this week and discovered that the Falcon Press production/publication class, Journalism II/III, received not only their 4th consecutive national Gold Medal, 1st Class award from the prestigious Columbia Scholastic Press Press Association (CSPA) at Columbia University, but also an 8th consecutive 1st place distinction in the state for online news award from the Virginia High School League (VHSL). Furthermore, in late August, she received word that Falcon Press was also awarded another national Gold Medal, their first, from the National Scholastic Press Association (NSPA).
Obviously ecstatic and with a giant grin on her face, Tonelson shared the news with her Journalism students, letting them know that keeping a strong work ethic, a positive attitude and a "nose for news" eventually pays off. 
Print
Before Falcon Press transformed into its online format, there was only a print version that students produced through InDesign then sent to the printer five times each year. At the time, Tonelson was a new adviser and took over a program composed of one class that housed about 15 Journalism I, II and III students all together. However, the paper began to win consecutive VHSL First Place in state awards for print news from 2010- 2013.
According to VHSL production critiques, the award was given to Falcon Press for its outstanding achievement in quality publications service of its school and community.
Eventually, as the publication and circulation grew, so did the number of students who joined the program. Some of these students remained staples in the class, spending three years learning the ins and outs of Journalism and publications. Then, due to numbers and the evolution of news production as a whole, Falcon Press became Falcon Press Online student news hosted by third party news website developers Scholastic Newspapers Online (SNO).
Online
After mastering SNO driven online news techniques, the program was thriving. While the Journalism classes and the newspaper grew in size, it also grew in a variety of skill sets. In fact, many students flourished and went on to intern, write for their college newspaper or for professional news sources.  Alumnus Ashley Burt is a sports writer at Virginia Tech, while alumnus Haley Needham , now a senior at James Madison University, took a broadcasting internship last summer with 13 News Now. 
What started as 10-15 students with a passion for Journalism has turned into a nationally recognized organization with almost 90 members, two Journalism I classes and one Journalism II/III production class. And, as an online news source for the school and community, Falcon Press Online student news branched out again, developing a social media presence to include: Facebook, Instagram, Twitter and Pinterest.
Since then, Falcon Press won five more First Place in state awards, 2014 -2019 from VHSL, as well as the national awards from CSPA and NSPA.  Both students and the adviser spend hours each week week  writing, editing, photographing, and creating videos to make the paper more user friendly and focused on school and community, showing off the great things students accomplish both in and out of the classroom. 
"This is my 9th year as the Falcon Press adviser. I've gotten to see it grow and change as we went from print to online and each year is a struggle; its difficult to get everyone transitioned and into their comfort zone, but the end product is always worth it," Tonelson said. "The online news site offers so many more opportunities for growth and ultimately, it's not about winning awards, but showing students what they are capable of and allowing them to take pride in their work."
Senior Journalism student Laine Hillier, who is also one of five Editors-in-Chief this year, has actually been a part of the Journalism program for four years. Her experience is unique as she's been a part of the Journalism family a year longer than most other students, beginning her journey as a freshman.  Her older sister was in the class for two years and she decided to follow in her footsteps.  And, although there is not a Journalism IV class, Hillier decided to keep the class as an 'Independent Study' opportunity.
"I'm proud to be a part of this organization at my school. We have continually been successful in what we do and it has been amazing working with Ms. Tonelson and all the new students each year," Hillier said.

About the Contributor
Audra Chaffinch, Editor-in-Chief
Senior Journalism III student