NAHS students create unique bra, "Bra ha ha" event for breast cancer awareness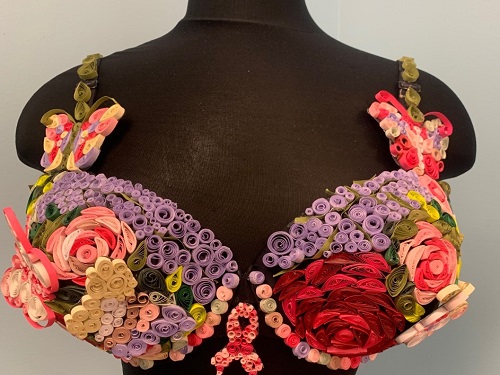 Students involved in the National Art Honor Society (NAHS)recently won first place in the school division category at the annual "Bra Ha Ha" event held to spread breast cancer awareness during the month of October. The contest itself is a fundraiser for  community members around Hampton Roads in effort to provide free mammograms and breast health services.
According to brahaha.org, the event is part of the Chesapeake Regional Health Foundation, a non-profit with the goal to fight breast cancer. The Bra-Ha-ha fundraiser, this year, was to invite and challenge interested community members to construct unique and over-the-top designs using a 38-C cup bra as their canvas, using breast cancer awareness as inspiration. Furthermore, all entries are unveiled at the Bra-ha-ha Awards Show and Auction, which serves as a fun tribute to those affected by breast cancer.
NAHS students were also invited to get in touch with their creative side by designing and developing a bra that represents the contest's theme, "Dia de Vida"  or "Day of Life," using colorful assortments of quilled paper to transform the bra into an exotic, floral masterpiece.  Junior Alaina Walton and  seven other  contributed time and effort into creating the bra before the contest deadline.
Although the contest was challenging, NAHS students including junior Alaina Walton and seven other Advanced Art students spent hours working on their entry before sponsor and Art teacher Jessica Van Vanhuyzen dropped the school's entry off the day before the show. In the end, the students' entry won first place in the school division of the Breast Cancer Awareness event.
"I am so proud of my students," Van Vanhuyzen said. "This was a difficult undertaking, but it was a creative, bright and colorful way to spread awareness for a horrible disease."

About the Contributor
Kenzie White, Student Life Editor
Junior Journalism II student