VB high school students display pieces, "Young at Art"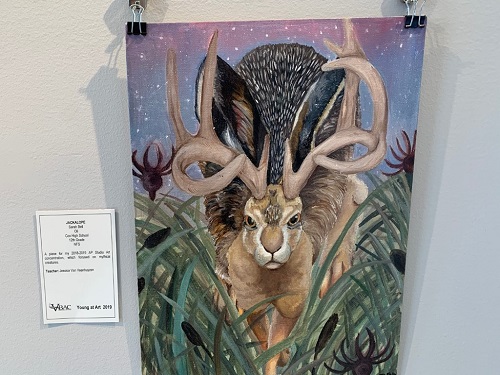 The Virginia Beach Art Center is currently holding a student art exhibit entitled "Young at Art"  that displays 53 pieces from various high school students in Virginia Beach from Oct. 4- 27. In addition,  a student reception was held on Thursday, Oct. 10, to recognize and award the exceptional student artists included in the exhibit.
Art teacher Mrs. Van Veenhuyzen entered five pieces of art work to display in the exhibit including: sophomore Fabiana Pajaro, junior Mackenzie Grijalva and seniors Sarah Bell, Tabitha Collier and Maura Nacey.  Students chosen to enter the exhibit are not housed in a single class, but vary in levels of artistic ability.
Furthermore, many students who have work showcased in "Young at Art" were able to put their pieces up for sale. Bell and Nacey both displayed art work from their Advanced Placement (AP) Studio Art concentrations. 
Nacey chose to display a colored pencil piece entitled "The Three Artists" to symbolize the importance of involvement in community.
"It was super exciting to be featured in a real art exhibit," Nacey said. "The exhibit is important because it allows for up and coming artists to share their work on a broader scale that isn't always available to students in high school."

About the Writer
Zoe Ferrell, Features Editor
Senior Journalism II student