VTfT seniors win teaching contracts, VBCPS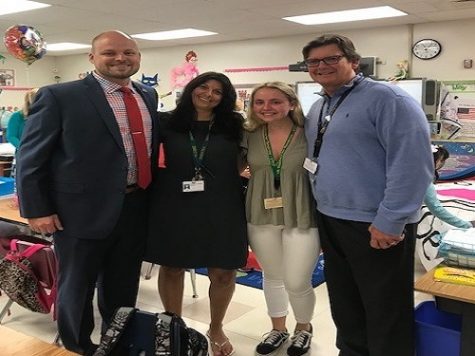 Virginia Teachers For Tomorrow (VTfT) is a year round class that turns dedicated students into hardworking teachers. As part of the VTfT experience, students are offered an internship with a local elementary of middle school in the discipline of their choice. Students attend this internship during every other VTfT class period
Each year, the "best of the best" VTfT students are awarded a Virginia Beach City Public Schools (VBCPS) teaching contract for their amazing work interacting with the kids, after completing college, if they choose to accept.

Last week, three Falcon senior VTfT students Abbey Faro, Taylor Schoolar and Kloe Jones, who all interned at Linkhorn Elementary, were offered contracts. School Board members plan to sign the contracts on Tuesday, May 28.
Faro and Jones plan to complete their higher education at Virginia Tech, while Schoolar plans to enroll in the Education program at Christopher Newport University.
"Thank you so much to Mrs. Nardelli for helping all of us through this whole process, it's so exciting to know that after college I can come back and teach in Virginia Beach," Faro said.
About the Contributors
Nyah Jana, Social Media Editor
Senior Journalism II student
Zoe Hines, Editor-in-Chief
Senior Journalism III student