NAHS students celebrate community history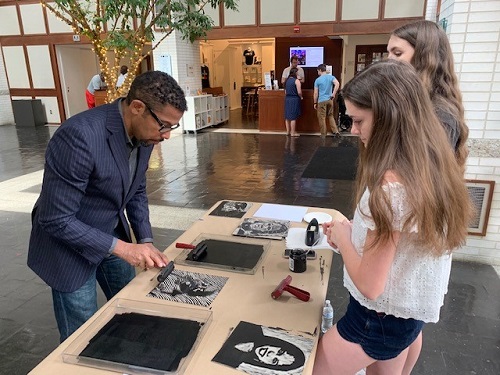 National Art Honor Society (NAHS) students recently partnered with well-known artist Richard Hollant to create a public Art movement celebrating the community and history of Virginia Beach.
This past summer, NAHS students created portraits of local African-Americans leaders, entitled the "Local Heroes" project, which were later displayed across the city.  The  project itself is meant to show why each of these individuals is significant in our society.  Each portrait contained a 'QR' code and when scanned gives a brief biography of the individual offering more information about each person's impact on the community.  
To continue the "Local Heroes" initiative, Hollant then created the "Portraits of Grace" project which also featured local, influential African-Americans.  Each portrait then became part of the public Art installation at the African American Cultural Center (AACC) in Virginia Beach. The art installation is still displayed at the AACC, located off of Newtown Road. 
Portraits of Grace was celebrated last weekend at the Museum of Contemporary Art (MOCA) ceremony in the  Virginia Beach Oceanfront's VIBE Creative District.  Students, artists, families and friends gathered in the museum to view the collaboration created by NAHS students and Hollant. The event was free for community members, allowing the public to view the portraits, as well as listen to recorded interviews and read written stories about each individual.
"NAHS had a great time at the MOCA celebrating amazing community Art, our local history, and the AACC,"  Van Veenhuyzen said.

About the Contributor
Anna Mason, Features Editor
Senior Journalism II student