Junior Alex Perez wins Tidewater Science and Engineering Fair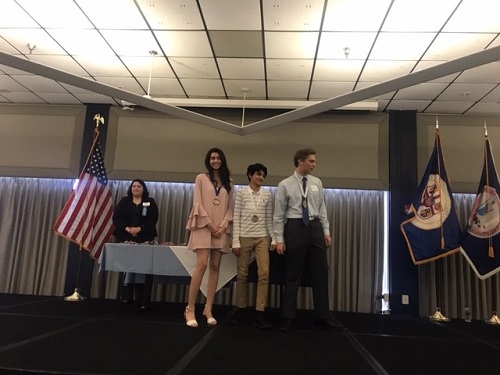 Junior Alex Perez  placed first in the 2019 Senior Animal Science at the regional Tidewater Science and Engineering Fair last month Old Dominion University's Webb Center. Competitors came from high schools across Virginia, the majority coming from some of the state's prestigious science academies.
For her presentation, Perez chose to conduct an experiment on the JUUL, a popular electronic cigarette device. Then, as an experiment, Perez tested the effects on sea urchin gamete fertilization cells when exposed to the vapor that the JUUL produces.
Perez was able to conclude through her experiment that the fertilization rates were three times less than the original percentage after being exposed to the JUUL vapor, which showcases a negative direct exposure on the cells.
Perez also won the Special Category Award in the Animal Science Division and has been selected to attend the Virginia State Fair on Apr. 6, where she will be afforded the opportunity to present her experiment to state-level judges.
"I chose this as my experiment because the JUUL is becoming a more widely used device inside and outside of school. Its popularity and usage is exponentially increasing, so it was very interesting to see the negative effects that the JUUL has on organisms," Perez said.
Perez attended the state competition last weekend in Roanoke and won third place in the Animal Science division.