Coquettes dance their way through seasons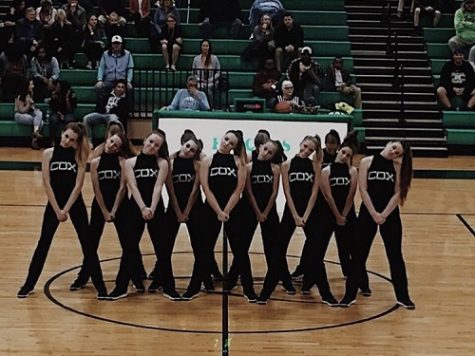 The Coquettes, frequently confused with Cox Cheer, is the school dance team that performs at half time during varsity football and basketball home games, as well as many other school events from summer through basketball season. Senior captains Lily Moen and Maddie Thomas and junior captain Katherine Harriman, create the dance routines for all events and help head practices for Coach Craft.  
Q: What differentiates the Coquettes from the cheerleaders?
A: "Coquettes are a dance team and the cheerleaders do more stunts and flips. Also, our practices are different intensity wise. I feel like our practices can get very very intense at some points. We also have to learn a lot of routines to perform whereas the cheerleader learn more cheers and stunts," sophomore Kenzie White said.
Q: How much time do you put in dancing each week to practice for Coquettes?
A: "I'd say a pretty decent amount. We have practices Mondays and Thursdays with our coach and at home I go and practice to make sure I know everything," sophomore Kayleigh Cannaday said.
Q: What type of events are the Coquettes involved in?
A: "The Coquettes perform in all the varsity football and basketball games. We also go to UVA during the summer to participate in a competition and have two other competitions in November and December. We do the Christmas Parade in December down at the Oceanfront. We perform at Bonfire, Mr.Cox, Fashion Show and all the pep rallies," senior Lily Moen said.
Q: How many dances does the team have to perform each year?
A: "It varies each year, but it's usually about fourteen," freshman Jamie Stone said.
Q: How has your experience on Coquettes changed after getting a new coach?
A: "Things like our practice schedule and how events are prepared for have changed but although I miss our old coach, I love our new coach Ms. Craft and she has done a lot to help our team," junior Emily Smith said.
Q: How do you balance your schedule from teaching at Hickory High School to coaching the Cox Coquettes?
A: "Balancing my schedule, requires a lot of early mornings and late nights and multitasking to make sure my coaching duties are taken care of as well as my teaching responsibilities. Also, being super organized doesn't hurt either," Coach Stephanie Craft said.
Q: How has your overall experience with the Coquettes been so far?
A: "I have loved working with the team the last two years. I have been blessed to have amazing captains who help make sure practice runs smoothly and the team has amazing dances to showcase. The girls are all well behaved and kind and are the best to work with," Coach Stephanie Craft said.

About the Contributors
Lily Moen, Student Life Editor
Senior Journalism II student