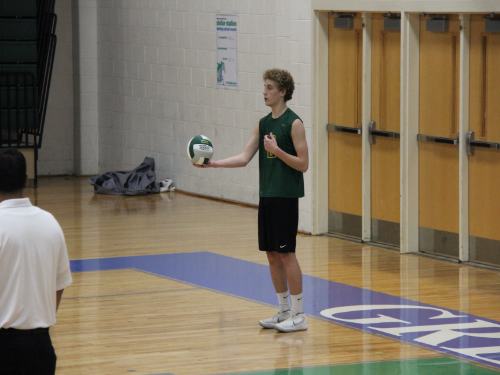 Spencer Davidson
Senior Tyler Poole plays outside hitter on the three time Regional champion Falcon boys volleyball team.  Poole, who is an acting team captain, led the boys through a number one pre-season ranking, another winning season and has plans to lead the team straight into the state finals.  
Q: How long have you been playing? 
A:  "I've been playing for five years."
Q: What motivates you to play volleyball and how did you get into it?
A: "I got into volleyball because a friend's dad convinced me to try out for a travel team.  Volleyball motivates me to play because I know my team counts on me. Since I began playing my freshman year, I've had the opportunity to go to state finals one time and the state semi-finals twice.  I have yet to get a state ring, so this year I really want it."
Q: What is your favorite memory playing volleyball?
A: "My favorite memory is probably two years ago during my sophomore year when we crushed Ocean Lakes and Kellam High Schools in the playoffs, after we lost to them in the regular season."
Q: What is one quality you must possess to stick out amongst other players?
A:  "One quality you must possess to stand out from others is leadership.  People will follow your lead and listen to what you say if you are a model for good sportsmanship and embody leadership qualities." 
Q: How do you feel about the team being rank number one pre-season? 
A: "The team being ranked number one pre-season is really exciting, but it doesn't matter to me as much.  If there has been anything I've learned, it's that anyone can win on any given day, so we just have to play our very best and earn that number one rank."
Q: What is your favorite part about being on the team?
A: "My favorite part about being on the team is getting to joke around with all my friends that I've gotten close to during practices, but I also get serious when I prepare for games."
Q: How has COVID affected your season?
A: "COVID has affected my season negatively by cutting my senior season almost in half, so we only have eight games and no playoffs."