Therapy dog 'Leroy Brown' visits CHKD club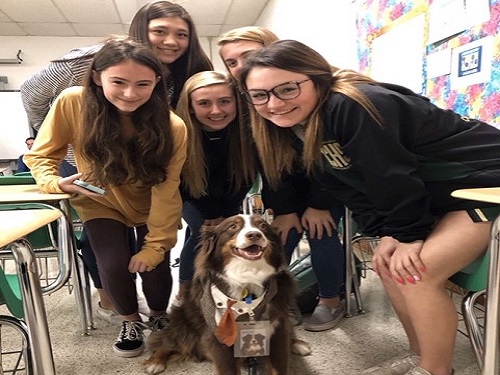 The Children's Hospital of the King's Daughters (CHKD) club is one of the newer clubs at the school, sponsored by math teacher Mrs. Rountree and currently has only eight active members. So, in hopes of reaching out to more students and to gain more interest in the club itself, one the certified CHKD therapy dogs came in to a meeting for a visit.
"Leroy Brown" normally spends his time at the hospital with children who thrive off of his positive vibes and overall "cuteness".  But, in effort to show interested students the purpose of therapy animals and how they can make a difference in a sick child's life, hospital volunteers brought him in for a quick visit.
The CHKD club, in time, hopes to fundraise enough to get more animals like Leroy Brown into the hospital, but for now hope to gain enough members to make fundraising for simple hospital necessities possible.
"Eventually we do want to be able to provide the hospital with more animals because we have seen firsthand the brightness in a child's eyes when they are able to interact with them, " junior member Maddie Merritts said. "Right now though, we need more members and more fundraising opportunities to actually make the kind of difference to these kids that they need.  Even the smallest items can brighten a child's day and that is our purpose."