Kobe Bryant, "Mamba" mentality, legacy lives on
Millions upon millions of fans have hollered his name, watching in awe as this legendary basketball player launches yet another seemingly impossible shot at the hoop. On the court, this man almost defied gravity, floating gracefully over other players, ball in hand, before smashing it into the net, again and again and again.
Essentially these millions of fans witnessed this man rise to an iconic status; straight out of high school he branded himself into the "Black Mamba" complete with a ferocious competitiveness and an unrelenting willingness to win. His goal was to become the best in the game and then to become better than the best.
This man never stopped his grind, believing that winning was the only option, even as his body slowly broke down over the course of a 20-year career. So, to simply state that he was a leader, an inspiration, a motivator, does not do him justice.
To many of his millions of fans and to kids everywhere, he was a legend, a hero and a man others wanted to emulate not only for his professional athleticism, but because he knew that he gave all he had left and then some. Ending his career after a final home game at the Los Angeles Staples Center, otherwise known as the "house that Kobe built", where after a heartfelt speech to the crowd, he dropped the "mic" with a "Mamba out".
Then began the second chapter in this 41-year-old man's life. A second chapter in life just beginning and already shining as brightly as the lights beamed for him on the court. And, as this second chapter began, he became more family-oriented, a focused husband and proud father of four girls.
He also became a producer and a creator, not only of shoes or short stories, but of the "Mamba mentality".  This man built the Mamba Sports Academy, a training center to inspire kids who loved to sports, whether these kids were exceptional players or ones who needed that extra little push to believe in themselves, costing him only a simple smile and a pat on the back that said "I'm proud of you".
On Sunday, January 26, we lost one of the most influential people to have ever played the game of basketball.  Kobe Bean Bryant, a.k.a the "Black Mamba", alongside his second born daughter, 13-year-old Gianna Maria-Onore Bryant, who also seemed destined for greatness and a spot one day in the Women's National Basketball League (WNBA), along with seven others, tragically passed away in a helicopter crash while traveling to the Mamba Sports Academy Gym in Newbury Park, CA.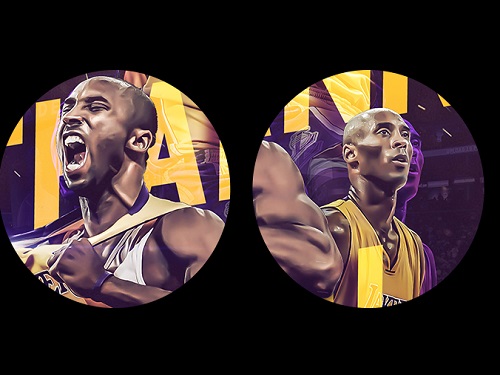 Bryant is undoubtedly one of the greatest NBA players ever.  His stats alone showcase his illustrious 20-year career inspired a generation of basketball players.
Bryant was a 18-time NBA All-Star, a 4-time All-Star game MVP, a league MVP, a 5-time NBA Champion, and a 2-time Finals MVP. Furthermore, his will to win and "killer instinct" enabled him to build one of the most impressive NBA careers ever. Time after time again Bryant would hit an impossible shot as fans screamed his name.
His career began when he was drafted to the Charlotte Hornets straight out of high school in 1996.  Soon after, he was traded to the Los Angeles Lakers, where he would play for the next 20 seasons.
Alongside Shaquille O'Neal and other Lakers 'greats', Bryant would go on to win three consecutive NBA championships from 2000-2002. Yet the powerhouse duo, O'Neal and Bryant, dominated the NBA during their tenure together as Lakers.
As his basketball career continued, Bryant became the sole superstar player over the next couple of years; scoring a career high of 81 points in a single game against the Toronto Raptors, the second highest total in NBA history and would eventually lead the Lakers to the finals again from 2008-2010.  The team would again win in 2009 and 2010, leaving the star with five NBA championship rings.
Bryant would soon struggle with injury; knee, shoulder and Achilles injuries ending his seasons and as stated in several television interviews, "it was time to go". He announced his retirement during the 2015-2016 season and in his final home game, in "his house", he ended his career scoring 60 points and treating fans to one of the greatest sendoff games in history.
Both of Bryant's jerseys, #8 and #24, were retired and will never be worn by another Lakers player.
Bryant wasted no time beginning his "Act II".  At 38-years-old, he would begin media ventures and would author books. He built basketball facilities in hopes to train the next generation of players.  He would even go on to win an Oscar for his animated short film, Dear Basketball.
Yet, to him, the most important legacy is the one he left with family.  Kobe had four daughters with his wife Vanessa, and according to all those around him he was a great father. He took on fatherhood as his most important role in life, thus the helicopter purchase as a way to quickly bypass L.A. traffic and spend more time with his kids.
On the day he died, he was traveling in his helicopter from church mass with 13-year-old daughter Gianna, who was hailed as his basketball legacy, to her game at his own Mamba Training Academy where he coached her team.
The Bryants would not make that game though, as dense fog ultimately slammed the helicopter into the hills of Calabasas, ending all nine lives aboard.
When the news broke, when the public understood we were experiencing real life, time stood still for his family, his friends and colleagues, as well as to the millions of fans who never "knew", but certainly respected him.  The loss of a legend, the shock, seemed to shut the world down no matter where we were at the time and as the news of his death spread, heartbroken tributes poured in from every end of the Earth.
The passing of Kobe Bryant is one of the most unexpected, tragic events in recent memory.  Bryant was only 41 years old and only three years removed from basketball at the time of his death. He was a hero, a different kind of hero who may not have saved the world, but rather brought the world together.
Next time we hear someone yell, "Kobe!" while shooting a ball, remember the man, the player and the father that impacted, inspired and motivated so many. And certainly, remember to treat every day as if it could be the last.
So we say "Thank you, Kobe".  We love you and we will miss you.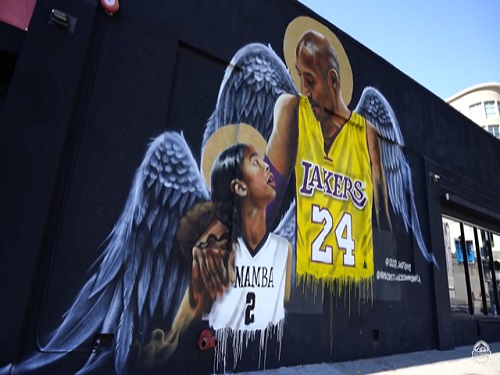 Many questioned basketball superstar Kobe Bryant about his four daughters; who would carry his legacy on the court? As we would soon discover, Bryant's second oldest daughter, 13-year old Gianna "Gigi" Bryant, was preparing to take the basketball world by storm.
According to an interview with Jimmy Kimmel in 2018, Bryant discussed that people often asked him often if he wanted a boy child to one day play in the NBA, in which daughter Gianna, also known as "Mambacita" replied with an "I got this."
Gianna, even at the age of 13, was on course to become her father's 'mini-me', planning to play basketball at the University of Connecticut first and move on to play in the Women's National Basketball League (WNBA). Thus far, his oldest daughter, Natalia, was a volleyball player and his two younger daughters, the youngest born last summer, were still too small to determine what path they might follow. 
Bryant was already priming herself for higher level play, worked out with her dad five to seven days a week at the Mamba Sports Academy, the training facility her father created in hopes of inspiring, motivating and developing programs for aspiring athletes. Her father even coached her "Mamba" team; during play it was evident that Gianna was seemingly her father's daughter, already emulating his style on the court.
She would constantly watch film to learn and improve the way she played just like her dad used to before games and in his sparse amount of free time. In a recent interview, he explained that Gigi had only picked up and developed a love for basketball less than two years ago, as she used to play soccer. And, in this short span of time, Bryant even said that his daughter was a much better athlete than he was at her age. 
Gianna hoped to continue her basketball career at UConn, a top 10 college for NCAA women's college basketball before moving on to the WNBA and Bryant encouraged her every step of the way. The Bryant duo even attended a game last March where they supported the 'Huskies' team.
As a tribute to a future star that would never have the chance to shine, her love for the team and her dream of one day playing basketball at the university, Gianna was honored with a reserved seat at a game held on Tuesday, January 28, only two days after the helicopter crash. The team placed a UConn jersey with her jersey #2 on the chair, along with a bouquet of flowers. A moment of silence was also held before the game for all involved in the accident. 
Unfortunately, we were not able to learn as much about Gianna and what she may have contributed to the game of basketball and in life as a whole. We can only take solace in knowing that she was with her dad in her last moments.
Since the morning of Sunday, January 26, when the helicopter carrying the Bryants, Orange Coast College baseball coach John Altobelli, his wife Keri, and his daughter Alyssa, teammate Payton Chester and her mother Sarah, Mamba Academy basketball coach Christina Mauser and the pilot Ara Zobayan, went down in the Calabasa, Calif. hills due to dense fog, many friends and family, fans, professional sports teams and schools throughout the country and the world have held ceremonies, moments of silence and a variety of other ways to honor the victims. 
In a statement released by Vanessa Bryant via social media on Wednesday, January 29, she made it clear that Gianna, her daughter "Gigi", was an amazing sister to her three siblings and that she and Kobe's legacy will continue to live on. Furthermore, Gianna was a talented basketball player, kindhearted and an inspiration to those around the world. Later on we would find out that her mother renamed the Mamba Sports Academy to the Mamba & Mabacita Sports Foundation.
While this is a devastating loss for the families and loved ones of all nine people who lost their lives on their way to play a game at the Mamba Sports Academy, their accomplishments, their impact on the world and their legacies will continue to be honored and remembered. 

About the Writers
Tanner Bailey, Opinion Editor
Senior Journalism II student
Lauren Moscovitz, Sports Editor
Senior Journalism II student