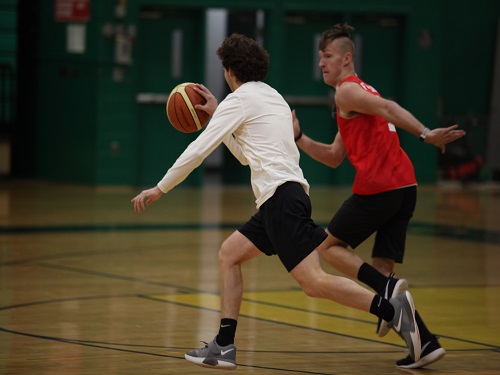 Spencer Davidson
SCA sponsored "Hoops for Hope" is an annual tournament to raise money for the Children's Hospital for the King's Daughters (CHKD) that took place Monday, Feb. 3 – Friday, Feb. 7, in the school's gym during One Lunch.
This fundraiser event for CHKD, which is a nonprofit organization that provides an extensive amount of health care that includes hospital care, physical therapy and a variety of other services.  
Each team has to have eight players, five or six boys and two girls to play per team to participate in the tournament.  Then, in the final game on Friday, the winning student team will compete against the faculty team in the final championship game to determine the superior basketball team. The event is free to everyone all week until Friday, when the winning student team plays the teachers and entry is $1.
Long-time SCA sponsor Mrs. Shumate and new SCA sponsor Ms. Gillespie took charge of the "Hoops for Hope" event.  Shumate has a special affinity for CHKD as she also leads the "Love Run/Walk" that benefits the children's hospital as well.  
"This event means so much to me because it raises money for an important cause, CHKD.  They are a very generous hospital and they pay for the families' medical expenses. Plus, who doesn't want to play against their peers and teachers in a basketball game," Shumate said.
Junior Cole Hines has participated in this charity event for the past two years, mainly because he loves to have the opportunity to be involved with what he believes to be such a great cause.
"I'm excited to play in the tournament because I'm very competitive and I want to win.  Last year I lost, so this year I'm determined to beat the faculty team," Hines said.
In the end, the student team beat the faculty 20-18 in a nail-biter game.
"I'll take the "L" because it was for a good cause; helping sick children is always worth my time," teacher David Mackey said.