Lady Falcons field hockey takes down rival F.C., 20 state wins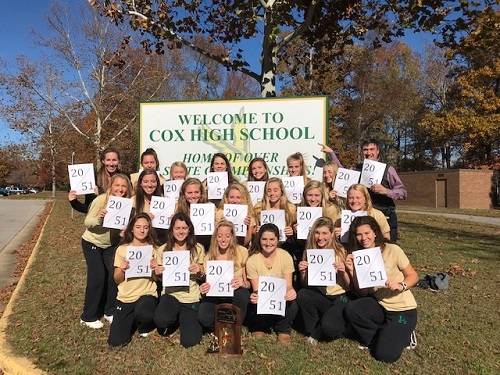 In the final state championship field hockey game, held this year in Northern Virginia, two Beach rivals once again faced off for the title.  The Lady Falcons prevailed once again, bringing home their 20th state championship trophy.
What Happened: Last Saturday, Nov. 10, the Lady Falcons took the field against backyard rival, the F.C. Patriots, for a state finals showdown. The game started promptly at 4:00 p.m. The girls battled throughout the game, leading to two over times. With roughly three minutes remaining in the second over time, junior Kylie Levine scored the game winning goal. As time dwindled, the Lady Falcons brought the 6A State Championship back to Falcon Country.
Key Players: Senior captain Taylor Schoolar shutdown all shots on goal by the Patriots.  Players including Captain Anna Mason, Kylie Levine, and Sam Zwyna all took lead on the field.
They said it: "I couldn't have asked for a better team for my senior year. Our team motto this year was "BE ONE"; we really showed that on the field. Our team has had a really good connection, and we always played as one unit rather than individually," captain Anna Mason said.
Key Moments: Blocked goals by Schoolar, the defensive stand all game led by Mason, and Levine's game winning goal scored in overtime play, were all key moments, as well as awesome memories.
Leave a Comment
About the Contributors
Jackson Morgan, Sports Editor
Senior Journalism II student
Isaiah Franqui, Sports Editor
Senior Journalism II student
Zoe Hines, Editor-in-Chief
Senior Journalism III student