Editorial: Juuling remains popular among teens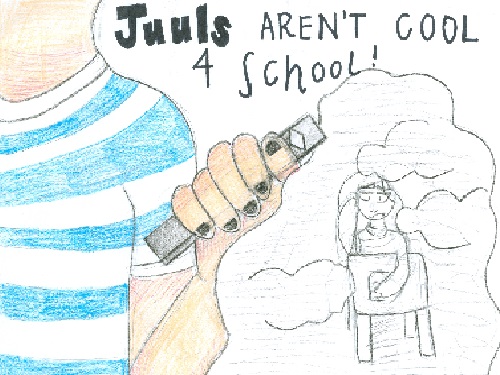 "While e-cigarettes are less toxic than cigarettes, they can make youth more likely to use regular cigarettes and still contain toxins and the addictive chemical nicotine, which is harmful to adolescent brain development." – the Truth Initiative
Over the course of only a year, the prevalence of Juuls inside schools has skyrocketed. With growing concerns for the health of teens, the Food and Drug Administration (FDA) has cracked down on the e-cigarette company and its various appeals to young consumers.
The company's main goal was to initially aid in weening adult smokers off of the traditional cigarette. Unexpectedly though, the e-cigarette's appeal has created a concurrent rise in teen use of the product, most of them never having smoked before.
Juul offers multiple flavors with names that leave FDA officials convinced the company is catering to a younger audience. These flavors are found to be the aspect of the e-cigs that initially drew teens to the product.
According to Vox.com, in an article it was stated that due to Juul's patented JuulSalts, which is composed of nicotine salts instead of traditional freebase nicotine, the nicotine is absorbed into the body at a rate more similar to traditional cigarettes than other e-cigs.
Furthermore, David Liddell Ashley, a former director of the office of science in the Center for Tobacco Products at the FDA, also told Vox that these nicotine salts go down more smoothly than freebase nicotine, so it doesn't leave an uncomfortable after feeling that traditional cigarettes do.
The Juul has disappointingly created another generation of addiction after the amount of progress made on ending the consumption of cigarettes.
According to BusinessInsider.com, in an article it has been found through brain imaging studies of adolescents, that those who began habitually smoking at a young age have decreased activity of the prefrontal cortex and typically have less attention and memory than those who don't smoke.
The FDA is concerned, especially, about how accessible these products are to young consumers, citing multiple retailers that are infamous for selling Juuls and similar products to minors.
Many people defend the addictive product by noting that it contains less of the harmful fillers that exist in traditional cigarettes. Some even say that it has little to no side effects and that the smoke is better for the environment because it's "just water vapor".
While these claims are partially true, the device still poses a great threat to health. There are still many unknowns circling the product since its rise in popularity only became more noticeable a few years ago. It's safe to say there hasn't been enough time to properly test the device and its various effects on consumers.
While the product does contain fewer toxins and carcinogens than the typical cigarette, it still isn't "just water vapor", it contains flavoring, toxins, irritants, etc. that will still likely cause issues in the long run. Any kind of smoke inhaled is harmful no matter how it is marketed.
Juul may seemingly be the thing that "everyone is doing" but it doesn't have to be that way. If our generation would start putting health before appearances we might avoid a long-term problem.