National Art Honor Society's latest project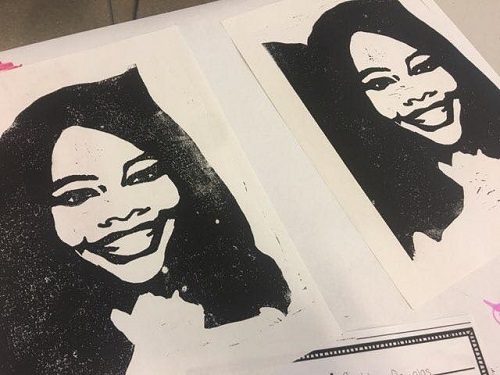 National Art Honor Society (NAHS) students consistently stay involved in community-based projects and initiatives, so their latest project continues their "traditional" theme.
Falcon NAHS students recently teamed up with local artist Rick Nickel and Chris Revels, and other artists and teens in the community, to once again, make a difference through art.  Students and artists combined efforts to create linocut prints of local influential African Americans from within our community which will then be made into posters to display throughout the city.
According to NAHS sponsor Jessica Syzmanski, the posters will promote the upcoming construction of the African American Community Center, founded by former Virginia Beach City Council member, Dr. Amelia Ross Hammond.
Syzmanski proposed the idea in June and it is just now in the beginning phase. The entire project is large in scope and NAHS students will complete their parts of the project in several phases throughout the school year.
"Our goal is to not only get students involved in their community, but to send a symbolic message of love, equality, and admiration that is all inclusive," Syzmanski said.