Pulley acts as National Youth Delegate, attends environmental summit in Washington D.C.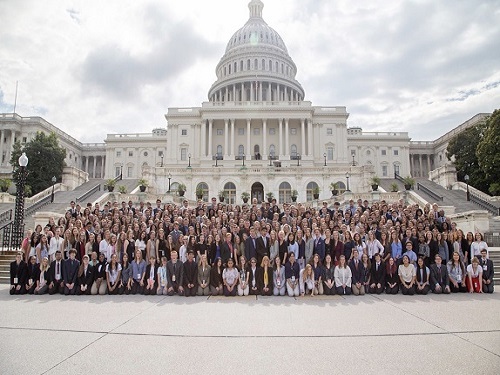 Hang on for a minute...we're trying to find some more stories you might like.
Senior Erin Pulley recently attended the Washington Youth Summit on the Environment, an event hosted by George Mason University (GMU)  held in the summer months for National Youth Delegates from around the country. This year students attended from June 24 to June 29 in the nation's capitol, Washington D.C.
Every year, GMU partners with the National Zoo and the National Geographic Society to create the Washington Youth Summit for the Environment (WYSE), according to the WYSE website.  In order to be considered for the summit, students are asked to apply months in advance. Pulley was chosen as one of the 250 high school students nationwide to attend WYSE.
"I heard about the program from one of my teachers last school year and I decided to apply," Pulley said. "I wanted to attend the summit so I could learn more about the environment and what I could do to help conserve it." 
Over the course of the six day event, highschoolers were given the opportunity to learn about the environment and conservation efforts through experts from around the world and various hands-on learning activities. WYSE gave students the tools to learn using decision-making simulations and activities, allowing them to experience what it's like to make stressful decisions for the environment that are both effective and ethical.
"One of my favorite activities was a simulation we did where groups from each state proposed a government policy that would help reduce single-use plastic," Pulley said. "I don't know why I found that so fascinating, but I did."
Pulley also discovered that single-use plastic is one of the biggest threats to the environment, but employing strong environmental policies can help change that.
"I and a few others met with Congressman Scott Taylor to discuss environmental policies that could potentially help conserve the environment for future generations," Pulley said.
At the end of the WYSE summit, each student or National Youth delegate received one college credit, as well as friends for a lifetime.
"The summit was filled with people from all over the country and a couple from around the world," Pulley said. "What made it so enjoyable was the fact that you made tons of friends with similar interests."